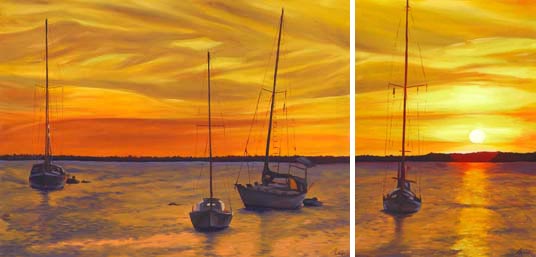 Sunset Over Klein Bonaire I and II
Experience the glorious colors of a Bonaire sunset as the suns sinks behind Klein Bonaire. The graceful masts of sailboats at rest rock gently in the protected waters of Kralendijk as day flares one last time before night comes.
oil on stretched canvas, two panels
26×36″ and 26×18″
framed
Originals SOLD
Signed limited Edition prints available together as a Special print $155, or separately as a Medium $75 and a Standard $95 print.
Keywords: sunset, seascape, landscape, sailing, sailboat, boats, ocean, sky, dusk, water
Colors: orange, yellow, ochre, purple