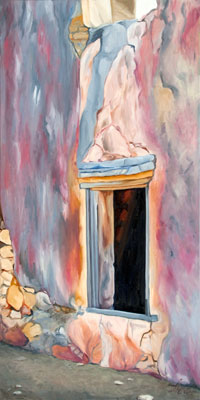 1885 Pueblo Novo
The ruin of an old tower house is fondly recognized by many locals on Bonaire. A friend visiting my studio just a day after I finished this painting said, "Is that the house in Nikiboko?" I was pleased he recognized it so I made a point to research the history of this iconic house to share.
The tower house was probably built in the early 20th century but potentially the inscription found on the building "1885 Pueblo Novo" indicates the year the original house was built. The style of the house is a "Cas di Hadrey" (house with a porch) with a square tower. The painting shows the window on the bottom floor of the tower and the sky can be glimpsed through the upper window casement. Shadows within the lower room suggest stairs and an upper floor but it is not safe to enter it. This house is listed by the government in Historic Monuments of Bonaire in 1987.
The patchy colors in greys, pinks, and peaches seem to be part of the concrete and local limestone wall. It doesn't appear to be layers of paint but maybe minerals that have leached out of the natural materials over the years.
48×24"
Oil on stretched canvas
Black metal canvas floater
Gallery wrapped – solid neutral grey edges
Original $2304
Signed limited edition print available in 13×6.51″ Large $125
Keywords: building, window, wall
Colors: grey, earth, gray, mauve, peach