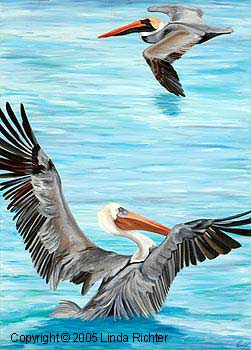 Fishing Lessons
The adult Brown pelican glides across the ocean in search of fish schools. Once found he sharply dives, plummeting into the water to scoop up a beak full of water and hopefully a fish dinner. An adolescent pelican flounders in the surf after an unsuccessful dive.
oil on stretched canvas
30×42
Framed silver wood frame
Original SOLD
The original has already been sold but signed limited edition prints are available on-line in size Large $125.
Keywords: pelicans, birds, wildlife, flying
Colors: blue, grey, gray