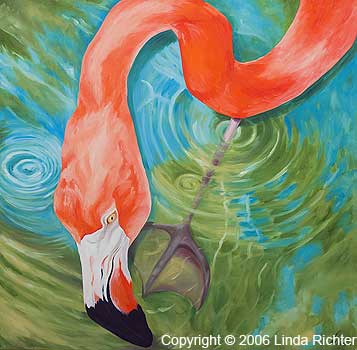 Flamingo World
Why call this painting Flamingo World? While it could have been Flamingo Head or Flamingo Neck one of the most striking elements to this painting is the swirling water with the mix of greens, turquoise, white and beige. In many ways, it reminds me of the space photos of the Earth. It is also the world of the flamingo stalking the waters for food. So Flamingo World it is.
oil on stretched canvas
36×36″
Black metal canvas floater
Wrapped and painted edges for hanging without framing
Original $2592
Signed limited edition prints are available in Large size 11×11″ print area $125.
Keywords: flamingo, bird, water
Colors: blue, green, orange, pink