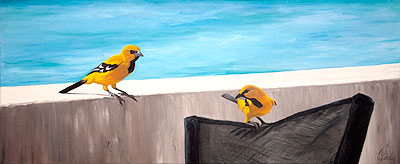 Yellow Orioles at Slagbaai
Less common than the similarly colored trupials, the yellow orioles (Icterus nigrogularis) can be differentiated by their yellow heads. Our little charmers are considered the sub-specie curasoensis restricted to the southern Caribbean Dutch islands.
I have never seen one on the southern end of Bonaire where I now live. We occasionally got them in Hato, about mid-island, but these particular birds were seen during a camp out in the Washington Slagbaai National Park which takes up the northern third of our island. They perched on the patio walls, or hopped along the tiles looking for crumbs, I imagine.
18×44"
Oil on stretched canvas
Black metal canvas floater frame
Gallery wrapped edges, painted solid warm neutral
Original $1584
Signed limited edition print available in 5.3×13″ Large $125
Keywords: bird, oriole
Colors: yellow, black, turquoise, blue