Richter Art 2011 Calendar
The 2011 Richter Art Calendar is an art wall calendar featuring 12 images of Linda Richter's oil paintings and Jake Richter's digital paintings. Each month's image is protected by a gloss varnish.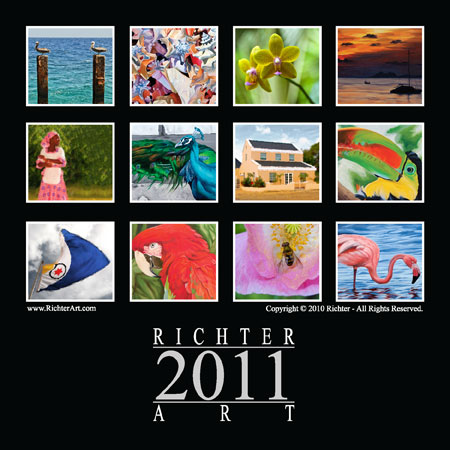 Jake's Images include:
~ Pelicans on Pilings
~ Glowing Orchid
~ Rincon Woman
~ Bonairean House
~ Spirit of Bonaire
~ Bee Getting Dusted
Linda's images include:
~ Prismatic Layers
~ Sunset Brandaris
~ Swept Along
~ Keel-billed Toucan
~ Macaws, Interrupted
~ Chogogo
This year we have added two mini-calendars for January and February 2012 at the back of our calendar for future planning.
The 2011 Richter Art Calendar sells for US$6.95 and is available now at the Richter Art Gallery on Bonaire. The calendar is available via the on-line shopping site at www.CaribbeanArt.com for those in North America and Holland.
Calendar details:
~ Saddle Stitched binding
~ Full Brilliant Color
~ Gloss Varnish to all the artwork
~ Handy 6×6″ folded for easy mailing
~ Full 12×6″ when open, vertical