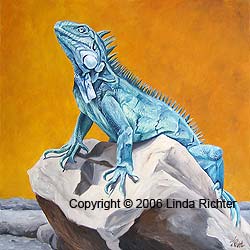 Sun Iguana
King of his domain, the adult iguana boldly climbs a boulder to warm his body in the glare of the sun. He is alert but confidant on his perch.
oil on hardboard
24×24″
Smoky bronze color metal frame
Original $1152
Signed limited edition prints are available in Standard size 8×8 print area $95.
Keywords: wildlife, iguana, lizard
Colors: yellow, mustard, green blue