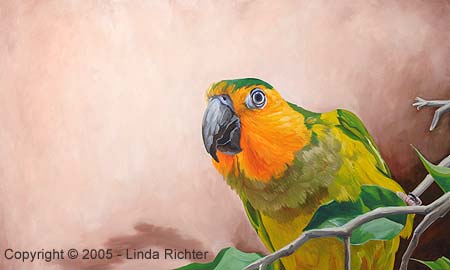 Who's There?
Always a character, Bonaire's native parakeet the prikichi shows its natural curiosity. Lean to the side, a dip of the neck, and a look around the corner let's the prikichi know who is coming. Friends are greeted with chatter and whistles. Foes face a screeching wrath.
oil on stretched canvas
38×22″
Wrapped and painted edges for hanging without framing
Original SOLD
Signed limited edition prints are available on-line in Small, Medium and Large sizes.
Keywords: parrots, parakeets, birds, prikichis, wildlife
Colors: green, orange, earth