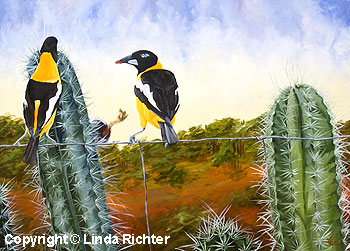 Trupial Brunch
The trupial as a regular garden visitor flashes a bright yellow and black but only up close can you see the dab of blue eye shadow.
The traditional Bonairean kadushi cactus fence made from straight tips cut and interlocked against a wire fence. If done with skill, the cactus pieces take root and the fence becomes a living and growing thing. The cactuses flower and produce fruit creating the perfect brunch line for a pair of trupials. Many other birds and animals will join the buffet line like our native prikichis and even fruit bats.
oil on stretched canvas
30×40″
Black and gold wood canvas floater frame
Wrapped and painted edges for hanging without framing
Original $2520
Signed limited edition prints are available in Large size 9.3×13 " print area $125.
Keywords: trupial, wildlife, fowl, bird, cactus
Colors: green, brown, red, yellow