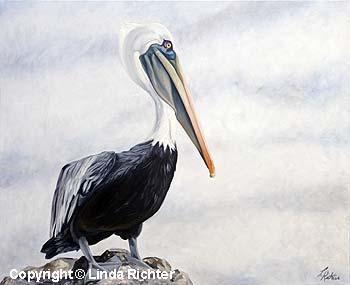 Pelican Vigil
A lone pelican stands upon a rocky outcropping. Misty air cuts him off from his fellows. He is alone for the moments. What is he thinking behind that intense gaze?
oil on stretched canvas
30×36″
Black and silver wood canvas floater frame
Wrapped and solid dark grey painted edges for hanging without framing
Original SOLD
Signed limited edition prints are available in Standard size 8×10″ print area $95.
Keywords: pelican, fowl, wildlife, bird, water
Colors: white, grey, cream, blue