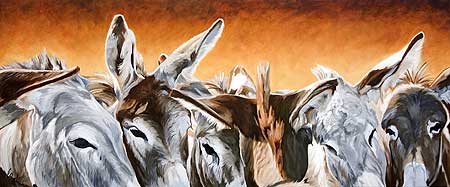 Donkey Huddle
Donkeys cluster about the feeding trough at the Donkey Sanctuary. They appear to be in a conversation listening to the one facing away from the viewer. One is concentrating with ears perked.
oil on stretched canvas
20×48″
Cherry wood canvas floater frame
Wrapped and solid brown painted edges for hanging without framing
Original $1920
Signed limited edition prints are available in Large size 6.25×15″ print area $125.
Keywords: donkey, wildlife, animal
Colors: brown, grey, earth, yellow