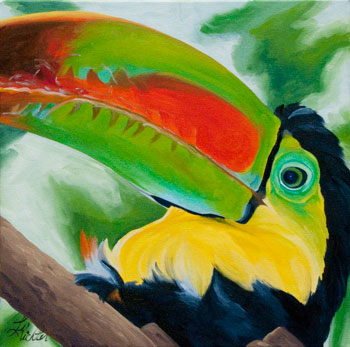 Keel-billed Toucan
The Keel-billed Toucan (Ramphastos sulfuratus, also known as Sulfur-breasted Toucan, or the Rainbow-billed Toucan) is a colorful Latin American Bird with a large bill. Bright, lively, and very colorful, this toucan evokes childhood memories – a bowl of colorful cereal and a fast talking cartoon bird.
18×18"
Oil on stretched canvas
Black metal canvas floater
Gallery wrapped edges  painted a solid yellow
Original SOLD
Signed limited edition prints are available in standard size 8×8″" print area $95.
Keywords: toucan, bird
Colors: yellow, orange, green, black