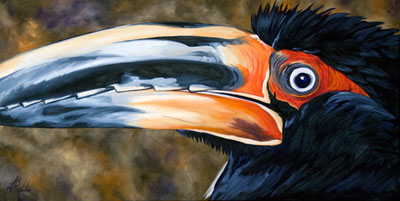 Red Toucan
Stared down by the eye of a red toucan. Glossy black feather set off the brilliant red skin surrounding the eye. Portrait of a toucan.
oil on stretched canvas
18×36″
Black metal canvas floater frame
Original $1296
Gallery wrapped canvas with painted edges for hanging without framing
Signed limited edition prints are available in Large size 6.45×13″ print area $125.
Keywords: bird, avian
Colors: black, red, yellow, white