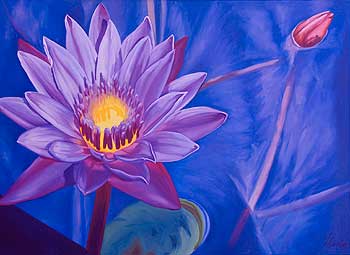 Water Lily in Purple
A purple water lily pokes out of the pond's blue depths. Stems can be seen under the surface.
oil on stretched canvas
26×36″
Black metal canvas floater frame
Original $1872
Gallery wrapped canvas with painted edges for hanging without framing
Signed limited edition prints are available in Large size 8.5×11.6″ print area $125.
Keywords: flower, floral
Colors: purple, turquoise, pink, blue