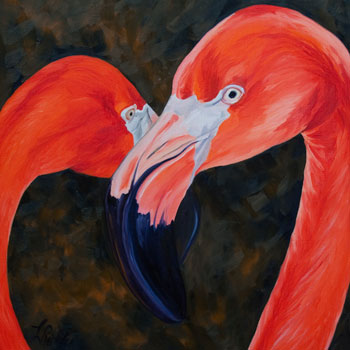 Flamingo Heart
The graceful curves of flamingo heads and necks seem to entwine in the shape of a heart. The fantastic coral oranges and reds add to the implied heart concept. The mottled brown and blue background allows the flamingos to pop to the foreground.
First in a series of three flamingo inspired paintings. The canvas sides are painted a solid deep coral red.
Our Greater flamingos have been a daily sight these past 6 months or so here on tropical Bonaire. Yet our wet season has ended and the salinas near town have dried up. Our flamingos have flown to the ends of the island in search of wet feeding grounds during our dry season. A great blue heron and a handful of egrets are still trying to feed in the few remaining water holes.
20×20″
Oil on stretched canvas
Black metal canvas floater frame
Original SOLD
Signed limited edition print available in 11×11″ Large $125
Keywords: flamingo, bird, heart
Colors: coral, red, orange, brown