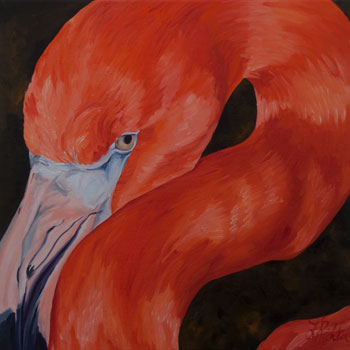 Flamingo to the Left
Is this flamingo coiled in watchful repose, or waiting to spring into movement? He seems less than restful but not particularly worried about my presence.
We've had some recent rains on Bonaire which should bring our local flamingos and egrets back to the salinas near town. Maybe some more chances for close-up photos of all the feathered ones although part of the road is closed off while construction is done on an intersection further on.
20×20″
Oil on stretched canvas
Black metal canvas floater frame
Original $800
Signed limited edition print available in 11×11″ Large $125
Keywords: flamingo, bird, heart
Colors: coral, red, orange, brown